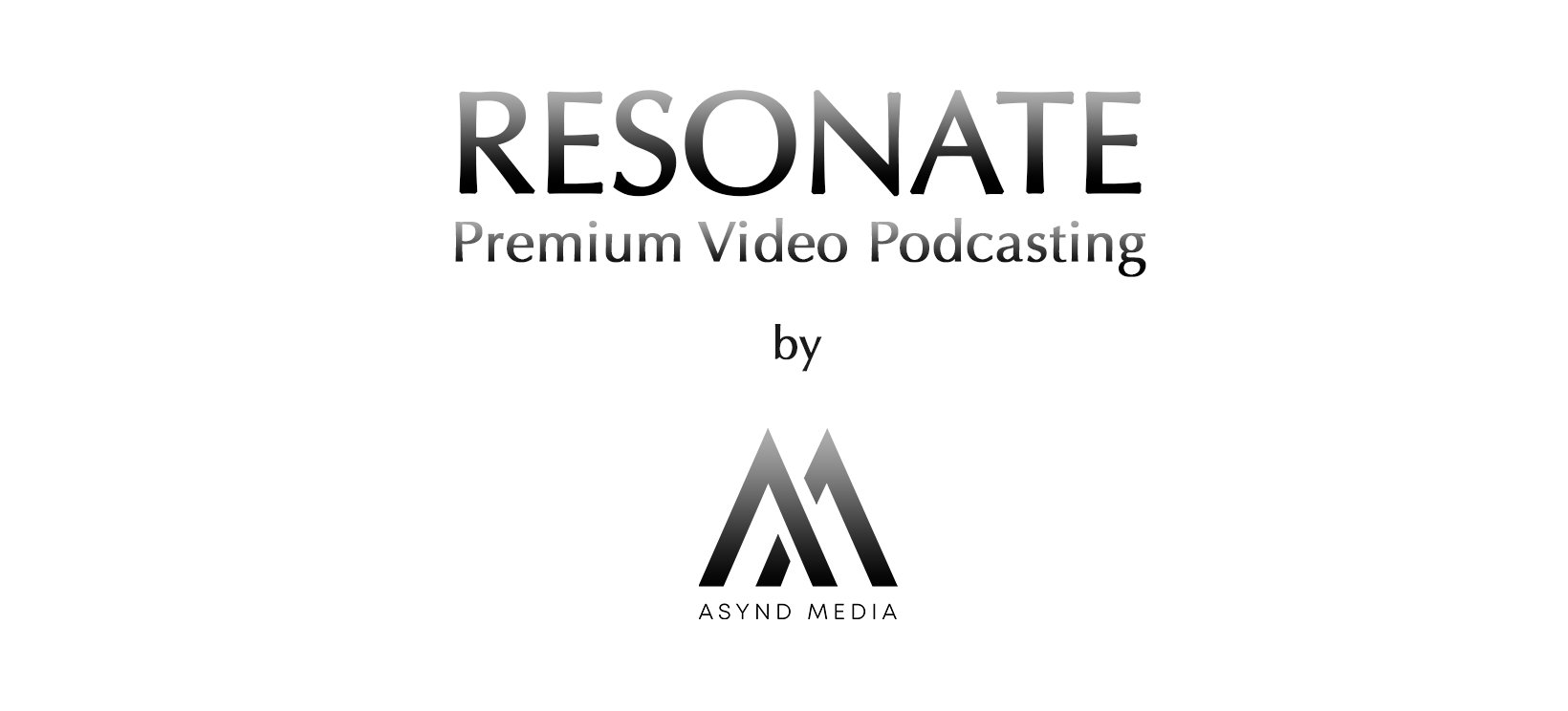 As an expert, your time is the most valuable serving your clients. Period. 
Writing up podcast episode show notes, editing the video, creating episode graphics, posting it on 4-5 social media channels multiple times a week, and blogging about it is a poor use of your time. 
We've audited our process and have found that it takes us, experts at hight-ticket video podcasting and promotion, 3-4 hours to process each episode. If you were serving your clients at $150 – $500/hour how much is that costing you? If you're a time-leveraged coach serving a group, this value of an hour of your time is far greater.
RESONATE Platinum Video Podcasting production service is for experts who consistently get results for their clients, have content out in the world, or inside them, and are open to being coachable so that they construct a podcast episode that is focused on bringing more clients, members, patients into their programs and practices.  
RESONATE is our turn-key, done-for-you, video podcasting production. We specialize in Elevating your presence and Expanding your reach through premium media. YOUR TIME is highly valuable; that is why our goal is to keep you working ON the growth of your business and serving your clients at the highest level, rather than the steep and costly learning curve of the strategy and technology of creating a podcast that starts attracting more clients to you. 
RESONATE is made for those who want to click record, speak off of pre-prepared show notes, click upload to our servers, and go back to business. We have created an experience that requires almost NO technical expertise.
If you have an admin or video/web person as a resource, we can work with them to make the very most of your time.
1. CLICK RECORD
Use Your episode bullet points to talk through relevant and valuable content that attracts ideal clients, templated to elicit action on the part of the listener.
2. SPEAK
Let your perspective and proficiency be on full display as you lead listeners through the journey of your 5-minute to 60-minute episode.
3. UPLOAD
When you are done, name it and upload it to our server. That's it! We'll edit and distribute the episode & market it through social media, your blog & email list.
"Matthew and his excellent company Authority Marketing Films were impeccable consultants in helping us set up our first real video podcast series. We wanted to up the ante on everything from style, mood, lighting, sound and video production quality, as well as streamline our distribution across multiple platforms.
In all of these areas Matthew provided simple, to-the-point suggestions that made the process easy and the end result a perfect match to our vision for the podcast.
In addition to his professionalism and obvious expertise, he is a truly enjoyable being to work with. A true friend to your next level podcast release—highly recommended!"
Bentinho Massaro, International Spiritual Teacher 
Weekly Episode Syndication +
3 Posts Per Week to FB page, LinkedIn Business, Instagram, Twitter (12 Social Media Posts per week!)
Post 1: Podcast Episode Image
Post 2: Video or Wave clip (1min)
Post 3: Image + quote meme
Post a Blog Post on your website
We add the 300-600 word summary, embedded episode audio player, written CTAs with live links to your funnel. Add the category and tags/keywords for simple SEO
Post on your Facebook Business Page
Unique episode graphic and text from summary with CTA and link to your podcast episode blog post on your website
Post to your LinkedIn account
Unique episode graphic and text from summary with CTA and link to your podcast episode blog post on your website
Post to Instagram
Unique episode graphic and text from summary with CTA and link to your blog in the header
Post to Twitter
Your twitter post is text from your episode + a link to your podcast blog
Broadcast an HTML Email to your list
With every episode launch we send out a coordinated email to your list with your unique episode graphic, brief on your text summary, CTA out to your free offer or to schedule a call with you. It's your email and we can add your current offers and news if you like. We create a HTML template that matches your everything your building and elevates your brand
Rapid Authority Funnel
OPTION A: You already have a functioning funnel now. Terrific! We will audit your funnel and recommend any changes or improvements. We'll check the process that people go through to be certain that it is optimized for conversion and sales.
OPTION B: I don't have a funnel, nor do I know what a funnel is. A funnel is a way for individuals with the intent to improve their situation potentially through the types of products and services you offer. Typically our clients offer a small result in advance through a video series, recorded webinar, audio meditation, blueprint or checklist .PDF, etc. in exchange for the visitor's name and email address.
If you have a highly-relevant, high-value piece of content like a past training, audio program, blueprint, video series or automated webinar, we can make that available online in a 3-4 page website with a single call to action.
Contact Us About Producing Your Podcast For You
* We currently support clear English transcriptions only. Other strong accents/languages may be an extra charge per episode as processing time drastically increases from AI to human transcription. Included are AI transcripts for episodes up to 40 minutes.
** We currently support WordPress & Square Space blogs
*** We currently support Aweber, Mail Chimp, Active Campaign. If you use another platform, ask and we may be able to integrate